News
2018-04-11
As part of our founding belief and ongoing practice of supporting groups and individuals in need, DP Industrial helped sponsor the 10th Annual TIC Cup Golf Tournament for Children's Charities. This year the event was held April 5-8 2018. This was the 7th year in a row that DPI has been a major sponsor of this wonderful fundraiser.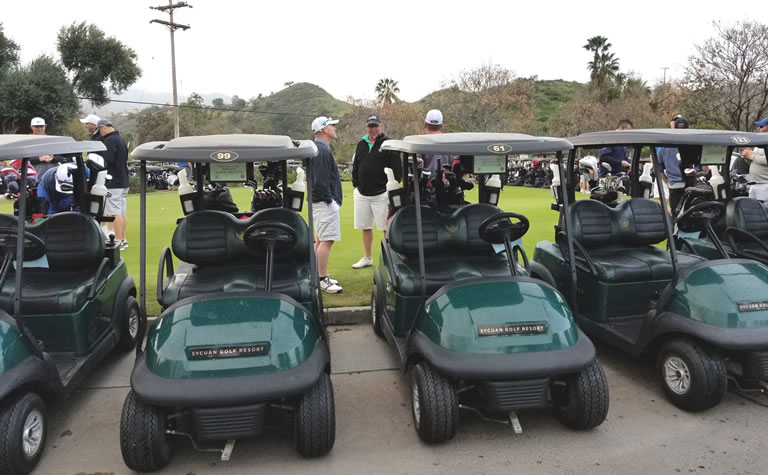 (DPI President Dave Staley discusses the event with guests)
The charities supported by this golf tournament are Courtney's Courage ( courtneyscourage.org ), Make-A-Wish Colorado ( colorado.wish.org ), the Ronan Thompson Foundation ( ronanfoundation.org ), and Bags of Fun ( bagsoffun.org ). We were able to meet many of the founders of these wonderful organizations on the course and learn more about them. These folks become personally involved with the children they help, and it is inspiring to hear their stories each year. Each of these groups has a different approach to helping children, and they complement each other. Each is important to not only the families they help directly, but also in growing research and new methods of treatment for those who may be come affected by these diseases in the future. This year's tournament brought the total contribution of the tournament to over $1,000,000.
This year, the event was held near San Diego CA with the host hotel located at Viejas Hotel and Casino and golf at Sycuan Golf Club. As usual, TIC did a great job planning and organizing the event, making it another resounding success! DPI is proud to be a part of it.
Employee of the Month
Felipe Rosas
---
3 Months with DP
Felipe was nominated as February's employee of the month for traveling to North Dakota in the worst snow storm of the year, as well as his client relations. Felipe defines himself as "friendly, efficient, and secure." Felipe has interest in business management, he hopes to one day work his way up to project manager. He has enjoyed working with DP because of the flexibility, more time with his family, and lower stress levels. Felipe work's safe for himself, and others around him.